Laser Therapy Services in Toronto and Scarborough
Reduces Inflammation, Swelling, Muscle Spasms, Stiffness, and Pain – Book an Appointment!
Laser therapy delivers specific red and near-infrared wavelengths of laser light to induce a therapeutic effect within the body. Laser therapy has been used in Europe since the 1970s and was cleared by the United States Food and Drug Administration in 2002. The Summus Medical Medical Laser has become the preferred choice for thousands of practitioners worldwide.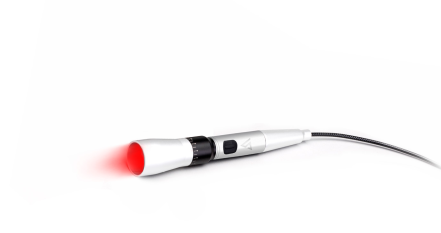 Cellular Effects During Summus Medical Laser Treatment:
The infrared laser light interacts with tissues at the cellular level and metabolic activity increases within the cell, improving the transport of nutrients across the cell membrane. This initiates the increased production of cellular energy (ATP) that leads to a cascade of beneficial effects, increasing cellular function and health.
Therapeutic Effects of the Summus Medical Laser:
During each painless treatment, laser energy increases circulation, drawing water, oxygen and nutrients to the damaged area. This creates an optimal healing environment that reduces inflammation, swelling, muscle spasms, stiffness and pain. As the injured area returns to normal, the function is restored and pain is relieved.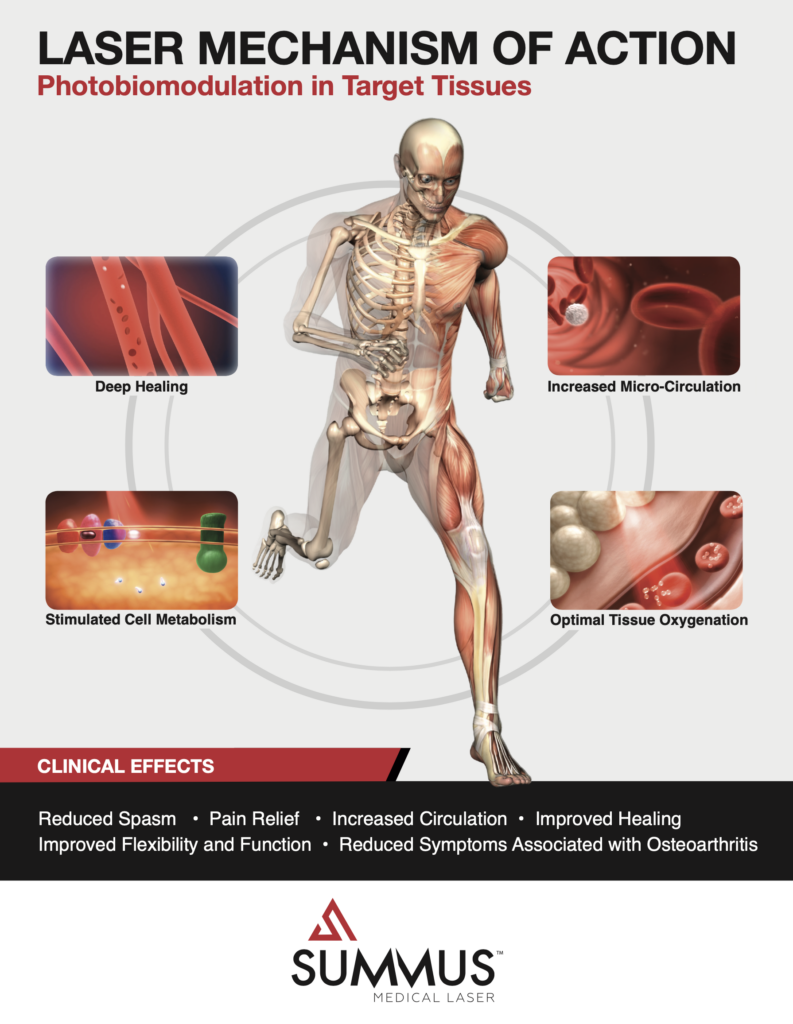 Book your Summus Medical Laser Therapy treatment today at our Toronto Location by clicking the button below. 

Book your Summus Medical Laser treatment today at our Scarborough Location by clicking the button below. 

Therapeutic lasers (cold lasers) can create a variety of effects on your tissues.  These include:
Rapid cell growth
Faster wound healing and reduced recovery time
Reduces the formation of scar tissue
Anti-inflammatory action for improved joint mobility
Lasers stimulate lymph and blood circulation.
Lasers stimulate nerve function
Laser can also optimize muscle function
Improves immune responses.
Reduces pain
There are over 3000 researched published articles about the effectiveness of laser therapy for various conditions.
Common Areas Treated with Laser Therapy
Chronic neck and back pain
Ligament and tendon injuries
Sprains and fractures
Carpel tunnel syndrome
Osteoarthritis and  plantar fascitis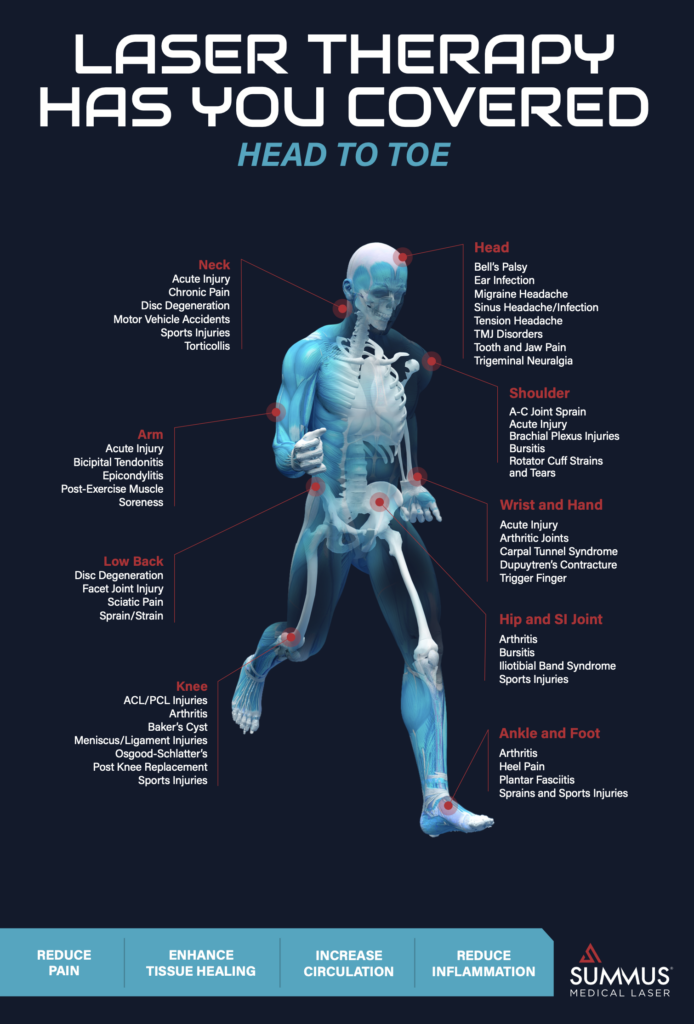 Summus Laser Therapy Frequently Asked Questions
Does it hurt? What does a treatment feel like?
There is little or no sensation during treatment. Occasionally, the patient feels mild, soothing warmth, or tingling sensations. Areas of pain or inflammation may be sensitive briefly before pain reduction.
Are there any side effects or associated risks?
During more than twenty years of use by healthcare providers all over the world, very few side effects have ever been reported. Occasionally, some old injuries or pain syndromes may feel aggravated for a few days as the healing response is more active after treatment.
How often should a patient receive laser therapy?
Acute conditions may be treated daily, particularly if they are accompanied by significant pain. More chronic problems respond better when treatments are received 2 to 3 times a week, tapering to once every week or two as improvement is seen.
How many laser therapy treatments does it take?
This depends on the nature of the condition being treated. For some acute conditions, 4 to 6 treatments may be sufficient. Those of a more chronic nature may require 6 to 12 (or more) treatments. Conditions such as severe arthritis may require ongoing periodic care to control pain.
How long before results are felt from laser therapy?
You may feel improvement in your condition (usually pain reduction) after the very first treatment. Sometimes you will not feel improvement for a number of treatments. This does not mean that the condition is not improving. Each treatment is cumulative and results are often felt after 3 or 4 sessions.
Looking for Laser Therapy in Toronto or Scarborough? Book a Consultation Today!
Are you looking for a physiotherapy and rehabilitation provider in Midtown Toronto or Scarborough? We're conveniently located at Bloor & Dufferin or Eglinton & Kennedy Rd in Scarborough.
In addition to laser therapy, we offer physiotherapy, chiropractic, massage therapy services that are covered by your health insurance. We also accept motor vehicle accident insurance claims as well as out-of-pocket payments.