Bloor Dufferin Rehabiltation Centre now offers radial shockwave therapy and Class IV laser therapy!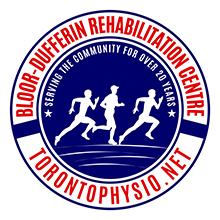 Toronto Rehabilitation Centre
207 – 1011 Dufferin St. (Bloor & Dufferin)
Toronto ON M6H 4B5
TEL: (416) 535-3335
Hours:
MON – 9:00 am – 7:00 pm
TUE – 9:30 am – 6:30 pm
WED – 9:00 am – 7:30 pm
THU – 9:00 am – 6:30 pm
FRI – 9:00 am – 6:00 pm
For all inquiries including appointment availability, please fill out the form below.

At Bloor Dufferin Rehabilitation Centre in Toronto, we have friendly and qualified practitioners who are dedicated to helping patients recover successfully. Our team of Toronto physiotherapists, chiropractors, massage therapists, and other staff members are a fun, energetic, caring, and knowledgeable group that have one main goal in mind: to help you recover and feel your best.
Get in touch with our Toronto rehabilitation clinic today to learn more about our therapy services. No matter where you live, getting the best treatment for your injuries should be a priority. At our Toronto Physio Centres, you will have access to the facilities that best suits you needs.
Contact Bloor Dufferin Rehabilitation Centre today to book your consultation!